Welcome to the July 2022 newsletter. In this edition:
Data project launched
Life as a Clinician-Scientist Victoria
Annual meeting registration open
External events
Sector news and opportunities
Congratulations
Fellows in the news
Academy update
The increasing use of electronic health data raises a number of challenges and opportunities for researchers and clinicians. The Academy's latest publication, Australia's Data-Enabled Research Future: Health and Medical Sciences, addresses these concerns as part of a joint project with Australian Research Data Commons (ARDC), the four other Learned Academies and ACOLA. Our report is a scan of the health data ecosystem. All five Academies produced scans for their fields, and these were pulled into a multidiscipline, collaborative report by ACOLA on how Australia can best support researchers to achieve data-enabled research excellence.
Registration is now open for our annual meeting on 13-14 October. AAHMS 2022: Future Health and Transformative Technologies will explore themes of sustainable health systems, health inequalities, communicating health in the new media landscape, harnessing research for better health and transformative technologies in health, among others. Our full program will soon be available and promises an exciting line-up of national and international speakers on a diverse range of topics designed to incorporate the broad interests of the Fellowship. We look forward to sharing more updates with you in the coming months. Save your spot and register today.
Additionally, registrations are now open for the 7th annual Life as a Clinician-Scientist Victorian symposium on 13 August. This popular event features some of the state's most esteemed clinician-scientists, who will encourage and inspire medical and health sciences students, junior doctors, health professionals and early career researchers to pursue this rewarding career path. Please share this event within your networks to reach as many budding clinician-scientists as possible.
Annual meeting update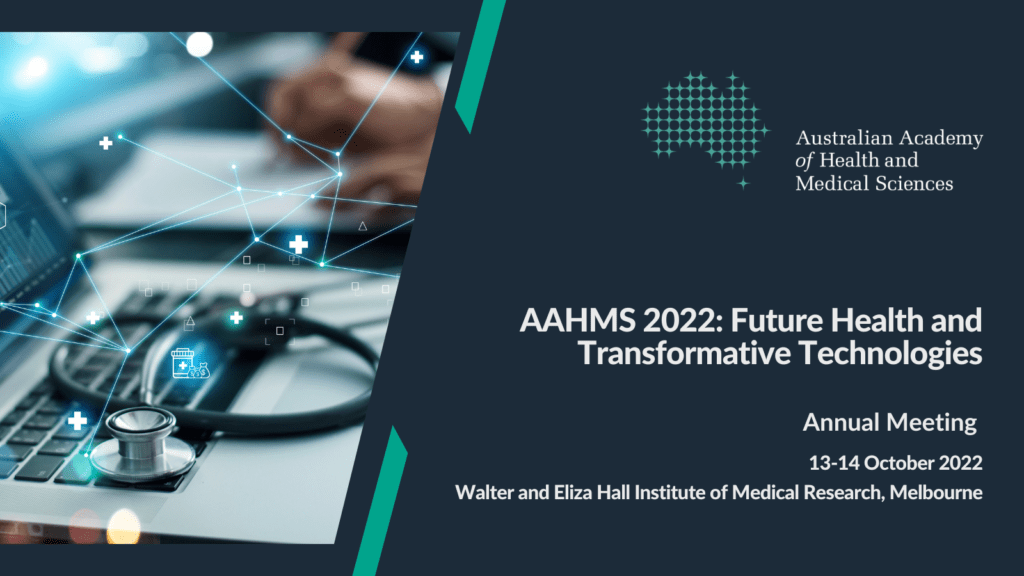 The Academy's flagship annual event is back in an in-person format for the first time in three years. Join us in Melbourne from 13-14 October for AAHMS 2022: Future health and transformative technologies. This event brings together Fellows, Associate Members and the wider research and innovation community to explore the latest developments in health, research and innovation. We also will welcome new Fellows for 2022 and celebrate outstanding achievements in health and medical sciences.
We are pleased to announce one of our keynote speakers, Professor Claire Wardle. Professor Wardle is cofounder and director of the Information Futures Lab at Brown University School of Public Health. A leader in the field of misinformation, verification and user generated content, Professor Wardle will present a compelling session on communicating health in the new media landscape, including challenges of misinformation and disinformation, and health literacy and behaviour change. Other sessions include:
Future health systems: How can Australia deliver effective, scalable and sustainable systems and initiatives that benefit the health and wellbeing of the whole population?
Harnessing research for better health: What is the role of research and innovation in addressing system pressures, reducing inefficiency and improving the nation's health?
Big ideas to address health inequalities: How can Australia shift the paradigm in its efforts to address health inequalities?
Communicating health in the new media landscape: How do people receive and accept health information, especially in the ever-broadening landscape of new media and amidst the challenges of misinformation?
Transformative technologies in health: What are some of the latest developments in cutting edge research and technologies designed to transform the health of tomorrow? 
A full program will be available soon. Register now.
The Academy is grateful to our sponsors for their generous support for this event, with special thanks to our platinum sponsors CSL and Belberry Limited, silver sponsor Murdoch Children's Research Institute, and venue sponsor The Walter and Eliza Hall Institute of Medical Research (WEHI). Please contact [email protected] if you are interested in finding out more about sponsorship opportunities.
---
Forthcoming external events
NHMRC consultation on options to reach gender equity in the Investigator Grant scheme
The NHMRC is opening consultation on options to reach gender equity in the Investigator Grant scheme.  NHMRC has released a discussion paper on this topic and will hold open forums next month  presented by NHMRC CEO, Professor Anne Kelso AO FAHMS, to discuss the proposed options. Visit the NHMRC website for time and location of the forums in August. You can also view the NHMRC's Gender Equity Strategy 2022-2025 on NHMRC's website.
2022 Ben Haneman Memorial Lecture
Professor Warwick Anderson FAHA FASSA FAHMS will present a lecture at 6pm Thursday 11 August at the State Library of NSW. "Virus on the march: military model and metaphor in the Covid-19 pandemic" is presented by the State Library of NSW Foundation and the Australian and New Zealand Society of the History of Medicine. Register online or phone 02 9273 1593.
BIOTech Futures Challenge 2022
The BIOTech Futures Challenge Symposium will be held on 29 August at the University of Sydney. This initiative connects Australian and international high school students with researchers to jointy tackle problems and propose solutions in the biotech industry. Finalists for the BIOTEch Futures Challenges 2022 will present their innovative ideas for projects shaping the future of the biotech industry. Learn more on the BIOTech Futures website.
---
Sector news and opportunities
Superstars of STEM search
A new program from Science & Technology Australia, funded by the Australian Government and supporting program partners, hopes to advance gender equity in science, technology, engineering and maths by creating more high-profile diverse role models to step into the public spotlight as media stars. Applications close 14 August. Visit the Superstars of STEM website for details.
Applications open for stem cell research prize
Stem cell researchers are encouraged to apply for two $55,000 Metcalf Prizes for Stem Cell Research. These prizes are open to mid-career researchers, 5 to 10 years past their PhD or MD (research based), working in Australia with a focus on stem cell research. Visit the Foundation's website for a full list of criteria and to apply online by 5 August.
UNICEF report
The health impacts of climate change have again been in the spotlight, with a recent report from UNICEF highlighting the impact that Australia's unsustainable consumption patterns will have on future generations of children. The UNICEF Office of Research Innocenti Report Card 17: Places and Spaces ranked Australia at 30 in an overall league table of 43 OECD countries for healthy environments for children. The Academy's recent policy statement, Climate change: an urgent health priority, acknowledges that climate change is health challenge that is already affecting the health of Australians, with serious implications for the future. We support a move towards net-zero emissions and the need to reduce the carbon footprint across Australia, including in clinical, research and public health settings as a priority.  
---
Congratulations
Congratulations to Professor Louise Baur AM FAHMS, elected President of the World Obesity Federation 2022-24.
Congratulations to Professor Maria Makrides FAA FAHMS, finalist for 2022 South Australian Scientist of the Year.
---
Fellows in the News
Professor Sharon Lewin shared her views on viruses this winter, the future of COVID-19, and her personal experiences with the pandemic in a profile in the Sydney Morning Herald. She also spoke to The Age about vaccinations.
Food can affect your wellbeing and your brain, writes Professor Clare Collins in the Newcastle Herald. She also wrote about  how to reduce grocery bills and still eat healthy foods in an article co-authored for The Conversation.
Professor Tony Cunningham discussed what comes next for COVID-19 boosters in an article in the Sydney Morning Herald.
Australia needs to think the pandemic response, writes Professor Brendan Crabb in an opinion article co-authored for The Age. He also spoke to ABC Melbourne about this issue after Australia surpassed 10,000 COVID-19 deaths, and to ABC News about the high cost of COVID-19 complacency. He also spoke to The Australian about the winter Covid-19 wave and modelling.
Professor Paul Glasziou compared COVID-19 and seasonal influenza for The Conversation.
Storytelling can help change sleep behaviour for children, as Professor Harriet Hiscock explained to ABC Perth and Today while discussing a new bedtime book designed to help children sleep. Professor Hiscock was also an author in an article published in the Journal of Asthma, which found hospital readmissions for asthma are increasing among children.
A new report highlights where Australia has failed and done well with COVID-19 management, writes Professor Stephen Duckett for The Conversation. He also wrote about COVID messaging for The Guardian.
Widening income, wealth and employment inequalities have been accompanied by increasing health inequalities, and have reinforced and amplified adverse health effects, according to Professor Fran Baum and colleagues in a new paper published in Australian Journal of Primary Health.
Fellows Professor Cathie Sherrington and Professor Adrian Bauman, and Associate Member Professor Anne Tiedemann co-authored an article calling for support for physical activity in an ageing world in an article for The Lancet Regional Health – Western Pacific.
Associate Member, Associate Professor Margie Danchin, spoke to ABC Radio Melbourne about the impact rising COVID-19 cases were having on children.