Welcome to the September 2022 newsletter. In this edition:
A message from our President
The Academy's flagship event of the year is only one month away – our Annual Meeting in Melbourne on 13-14 October. AAHMS 2022: Future Health and Transformative Technologies will look to our future to consider the big ideas, structural changes and technologies that will transform Australia's health, research and innovation sectors in the years to come. Finally, for the first time in three years, we are all able to meet in person, and I look forward to welcoming you there. The program has been designed to incorporate expertise and appeal to interests across the Fellowship and you can learn more about the program here. Please remember to register – you can do so here.
We recently announced the recipients of our two Medals – the Jian Zhou Medal and Medal for Outstanding Female Researcher. I warmly congratulate Professor Sant-Rayn Pasricha, recipient of the Jian Zhou Medal, and Professor Sharon Lewin AO FAHMS, recipient of the Medal for Outstanding Female Researcher. I invite you to join me in congratulating Professor Pasricha and Professor Lewin on their remarkable achievements, which you can read more about in this newsletter.
For undergraduate and postgraduate students, and those in a clinical career, the pathways to becoming a clinician-scientist can seem daunting. That's why I was thrilled that our inaugural Life as a Clinician-Scientist South Australian symposium was so successful. We had extremely positive feedback from attendees who found the speakers inspirational and informative. Thank you to our our fantastic presenters for sharing your wisdom with such a receptive audience – it is greatly appreciated. I would also like to thank our generous sponsors, The South Australian Health and Medical Research Institute (SAHMRI), the University of Adelaide and The University of South Australia.
The last Life as a Clinician-Scientist symposium for 2022 will be held in Sydney this Saturday 17 September, at the Kerry Packer Education Centre in Sydney, with online streaming tickets available to help us reach those who are unable to attend in person. I encourage you to share the details with your networks to help us inspire more people to consider this rewarding career.
I look forward to seeing you in Melbourne on 13-14 October!.
Best wishes,
Professor Ingrid Scheffer AO FRS FAA PresAHMS
President
Welcome to our 2022 award recipients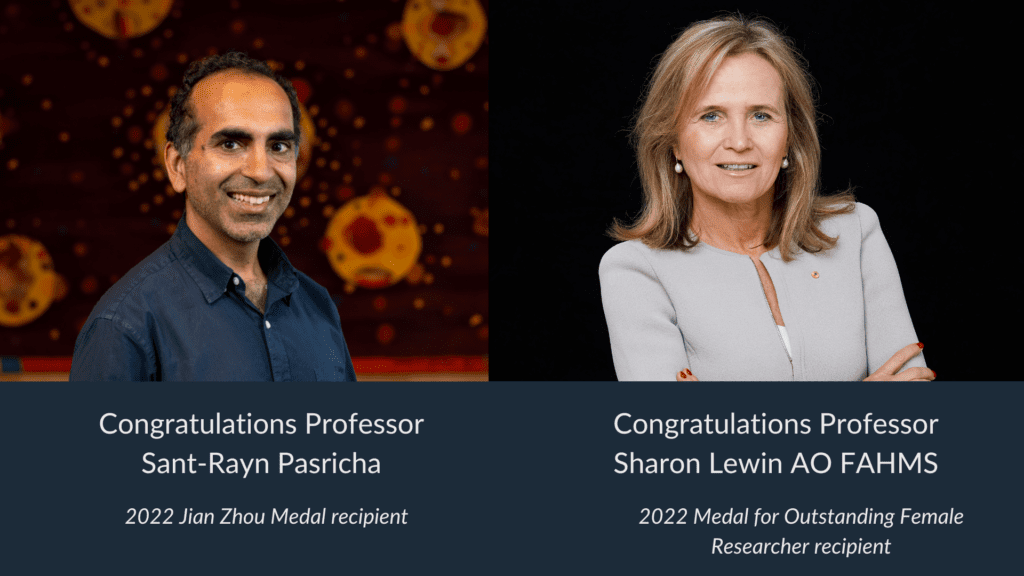 Professor Sant-Rayn Pasricha is the 2022 recipient of the Jian Zhou Medal, which recognises rising stars in Australian health and medical science. Professor Pasricha is a haematologist, epidemiologist and molecular biologist who leads the Population Health and Immunity Division at WEHI. He was recognised for his outstanding contribution to global anaemia research. His research program aims to reduce anaemia in children and pregnant mothers and has been translated into iron policies by the World Health Organization (WHO) to combat the global burden of anaemia. Read more about Professor Pasricha's impressive achievements.
Professor Sharon Lewin AO FAHMS is the 2022 recipient of the Academy's Medal for Outstanding Female Researcher. Professor Lewin is an infectious disease physician and virologist who has been at the forefront of the global search for a cure for HIV, as well as a key leader in the COVID-19 pandemic response. She is Director of The Peter Doherty Institute for Infection and Immunity and President of the International AIDS Society, as well as Professor of Medicine at the University of Melbourne and an NHMRC Practitioner Fellow. Read more about Professor Lewin's remarkable career and achievements.
Both medals will be conferred at the Academy's annual meeting Gala Dinner on 13 October. 
---
Annual meeting update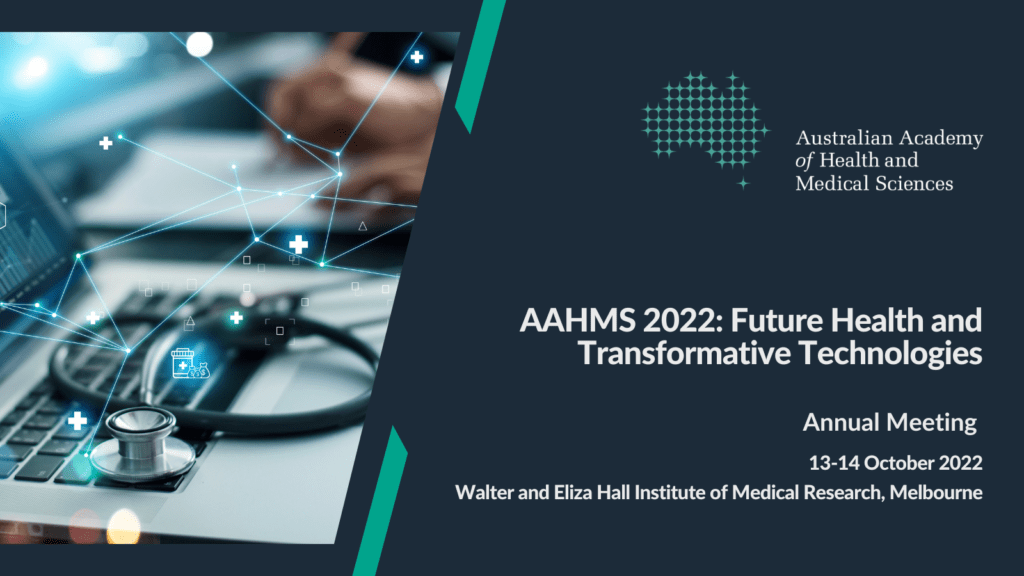 There is only one month to go until our annual meeting on 13-14 October in Melbourne at WEHI. AAHMS 2022: Future Health and Transformative Technologies is the Academy's flagship event of the year, bringing together Fellows, Associate Members and the wider health, research and innovation community. The program includes an exciting line-up of national and international speakers presenting on a diverse range of topics, designed to appeal to the broad interests of the Fellowship.
Highlights include:
Keynote address: "Future health systems", presented by Professor Jeffrey Braithwaite FAHMS, Foundation Director, Australian Institute of Health Innovation, Macquarie University.
Keynote address: "Communicating health in the new media landscape", presented by Professor Claire Wardle, Professor, School of Public Health, Brown University; Cofounder and Executive Chair, First Draft.
The launch of the Academy's major policy project, Research and innovation as core functions of the health system: A vision for the future of healthcare in Australia, featuring a presentation and discussion from project chair Professor Christina Mitchell AO FAHMS, Professor Caroline Homer AO FAHMS, Professor Euan Wallace AM FAHMS, and Professor Steve Webb FAHMS.
Presentations from Fellows and experts including:

Big ideas to address health inequalities: Five-minute "pitches" for ideas to address health inequalities in Australia, followed by a panel discussion. Featuring Professor Fran Baum AO FASSA FAHMS, Professor Jane Fisher AO, Dr Veronica Matthews, and Associate Professor Peter Azzopardi.
Transformative technologies in health: featuring Professor Dietmar Hutmacher FAHMS, Professor Ralph Maddison, Professor Svetha Venkatesh and Professor David Winkler.
Presentations from a selection of the new 2022 Fellows.
Panel discussions on future health systems featuring Professor Russell Guren FAHMS, Professor Anne Kavanagh FASSA, Associate Professor Jo-Anne Manski-Nankervis, Professor James Ward.
Panel discussions on communicating health in the new media landscape, featuring Professor Claire Wardle, Ms Ariel Bogle, Dr Sandro Demaio, and Professor Kirsten McCaffery FAHMS.
With thanks to our sponsors for their generous support.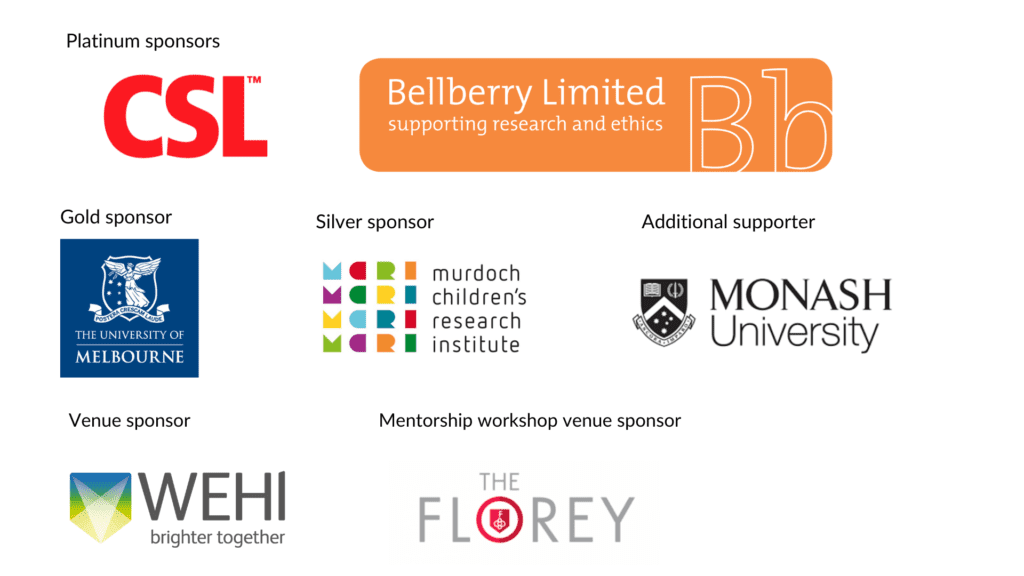 ---
Health Horizons Forum announced
The Academy is launching a series of roundtables to explore the future of health, research and innovation in Australia, in partnership with Saltire Capital Partners.
The 2023 Health Horizons Forum will bring together stakeholders from across the Australian health sector, government, research, innovation and industry to explore future opportunities and challenges with key industry leaders, influencers, and policymakers.
The forum will harness the expertise of AAHMS Fellows and facilitate cross-sector collaboration to identify the next big ideas that could transform the health of the Australian community in the coming decades. Learn more about the forum.
Sector news and upcoming events
Consultation on List of Critical Technologies in the National Interest
The Federal Government has launched a consultation on the 2022 list of critical technologies in the national interest. The list identifies current and emerging technologies that are critical for Australia today or could become critical within the next 10 years. There are several consultation sessions running in September, including an academic sector session on 20 September, an industry sector session on 20 September and a general session on 21 September. Visit the Critical Technologies website to view the consultation paper and for further details.
Report: Global Health Inequalities
The UK Academy of Medical Sciences and the InterAcademy Partnership (IAP) have released a new report, Global Health Inequalities: Research for a fairer future. The report highlights the impact the COVID-19 pandemic has had on disadvantaged and marginalised populations, with people in these populations typically experiencing high levels of SARS-CoV-2 infection, worse health outcomes, and more heavily affected by indirect consequences of the pandemic, such as reduced access to health services and disrupted education. Download the report on the IAP website.
Parliamentary inquiry into Long COVID
The Federal Government is seeking submissions for a parliamentary inquiry into Long COVID and repeated COVID infections. Submissions for this inquiry will close on 18 November 2022. People and organisations interested in making a submission should please ensure that they  respond directly to at least one of the inquiry terms of reference, including focusing on long COVID and/or repeated COVID infections and keep the submission as concise as possible (ideally no more than 20 pages). Contact  [email protected] with any questions about the inquiry or process of making a submission. Further details available online. 
Congratulations
Congratulations to Professor Christopher Fairley FAHMS and colleagues from Monash University and University of Melbourne on winning the Eureka Prize for Infectious Diseases Research.
Congratulations to Associate Member, Associate Professor Francine Marques, named Emerging Leader in STEM at the 2021 Women's Agenda Leadership Awards.
---
Fellows in the News
Professor Kathryn North wrote about action needed to address gender imbalance in medical research funding for The Australian.
Professor Ian Frazer discussed a new institute for treating childhood cancers, the Ian Frazer Centre for Children's Immunotherapy Research, with 7News and QWeekend.
Should other states follow South Australia's lead and appoint a minister responsible for autism? Professor Andrew Whitehouse co-authored a piece in The Conversation to discuss the implications of this appointment. He was also quoted in an article in the West Australian article on a proposal for an autism specialist school.
Can supplements or diet reduce symptoms of arthritis? Professor Clare Collins wrote about the evidence for The Conversation.
General practice is no longer appealing to young doctors, with implications for Australia's health system, writes Professor Ian Hickie for Crikey. Professor also explores the importance of mental wealth in an article co-authored for The Conversation.
Professor Harriet Hiscock spoke to the RACGP news service, NewsGP, about the lack of access to paediatricians that many GPs face.
Professor Sharon Lewin spoke to ABC and was quoted in The Age on the establishment of the Cumming Global Centre for Pandemic Therapeutics.
Professor Bruce Robinson spoke to 6PR radio about The Fathering Project to help children thrive. Fathering "bootcamps" were  also a subject of an article in The Australian.
Could there be a more accurate way to detect melanoma? Professor David Whiteman discussed the push to develop new testing on ABC Radio National's The Health Report.