Welcome to the November 2022 newsletter. In this edition:
A message from our President
It is with great pleasure that I write my first update as President of AAHMS. It is a privilege and honour to help guide the Academy's course over the next three years, and I look forward to building on the work of our immediate Past President, Professor Ingrid Scheffer, as the Academy continues to grow and shape the health, research and innovation landscape in Australia.
It was wonderful to catch up in person with many of you at the Annual Meeting and Gala Dinner in Melbourne last month. Thank you to the organising committee for all your hard work and dedication to creating a successful event, and to our sponsors for making our first in-person meeting in three years possible.
One of the highlights of the meeting was celebrating and welcoming our newest Fellows. With expertise across a diverse range of fields, including infectious diseases, epidemiology, oncology, immunology, health law and more, our 2022 Fellows highlight the wealth of experience in health and medical sciences in Australia. 
We also launched the Academy's first major policy report, Research and innovation as core functions in transforming the health system. This report outlines a comprehensive three-year plan to transform healthcare by better integrating research and innovation into the health system to improve outcomes for all. The report is the result of contributions from more than 260 individuals from across healthcare, academia, government, industry and consumer backgrounds, and includes a three-year plan to create a more sustainable, evidence-based health system. Learn more about this project.
Finally, nominations are now also open for our honorific awards – the Jian Zhou Medal recognises rising stars in health and medical sciences, while the Medal for Outstanding Female Researcher celebrates a leading woman researcher in Australia. Please consider recognising your colleagues who are making a significant impact.
Yours sincerely,
Professor Steve Wesselingh PresAHMS
President
Congratulations to our 2022 Fellows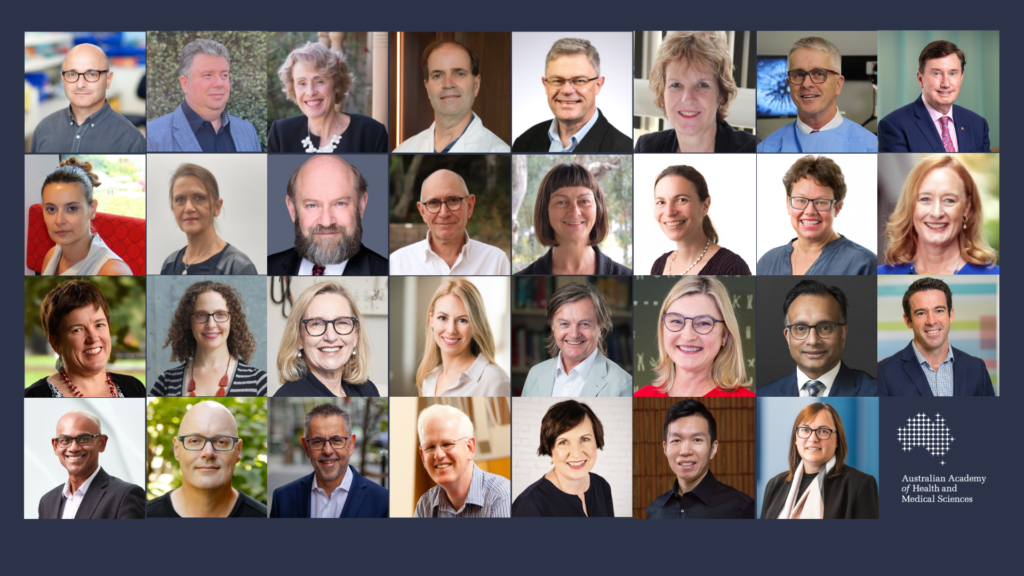 The Academy welcomed 31 health leaders as 2022 Fellows at the recent Annual Meeting Gala Dinner. This year's Fellows include 15 women and 16 men from around Australia, across a wide range of fields and specialties, including epidemiology, oncology, infectious disease, paediatrics, biostatistics, health policy, broadcast news and more. Read more about the impressive achievements of our newest Fellows.
Federal Budget analysis
The Academy has produced an analysis of the Federal Budget handed down on 25 October 2022. 
For health, the overarching narrative from the Department of Health and Aged Care emphasised: strengthening Medicare and cutting the cost of medicines, boosting regional and rural health, strengthening First Nations health, fixing the aged care crisis and implementing aged care reform, and extending COVID-19 support. The Budget papers also state that "a strong science system, with clear priorities, is critical to maintaining high levels of sustainable economic and social prosperity".
In a welcome announcement, there is $3.4 million over four years to develop a National Health and Climate Strategy and establish a National Health Sustainability and Climate Unit. Our full Budget analysis is available on the AAHMS website.
ACOLA report on disability confidence
A new report from Australian Council of Learned Academies (ACOLA) outlines how training in all occupations can be more responsive to people with disability and highlights best practices.
The project, Ensuring Occupations are Responsive to People with Disability, explored the context and adequacy of training about disability in Australia and, through this work, ACOLA developed a Good Practice Guide and Action Plan that identified areas for action by all stakeholders, including all levels of government, professional bodies, employers, training bodies, and individuals. AAHMS Fellow, Professor Cathie Sherrington, was a member of the the working group.
In response to the report, ACOLA and the five Australian Learned Academies published a joint statement of commitment to contributing to a society inclusive of people with disability. The report has been publushed in a range of formats including a plain English summary and an Auslan translation, all available from the ACOLA website.
Sector news and upcoming events
NHMRC gender equity changes for Investigator Grants
The NHMRC has introduced new measures to address systemic disadvantage faced by women and non-binary applicants to its Investigator Scheme. The changes have been informed by consultation with the research sector, including a submission from the Academy.
From 2023, NHMRC will:
continue to use structural priority funding at the Emerging Leadership levels to the extent necessary to achieve gender equity targets
adopt an intervention to achieve equal numbers of grants by gender for the Leadership category
include non-binary researchers alongside women in both gender equity interventions
adopt a single RSP of $400,000 for all Leadership grants
continue to use structural priority funding to support Aboriginal and Torres Strait Islander researchers at all levels of the scheme.
These changes will be implemented in the 2023 Investigator Grant round (for funding commencing in 2024), which opens for applications on 25 January 2023. Learn more on the NHMRC website.
Million Minds Mental Health Research Mission
Consultation on the roadmap and implementation plan for the Million Minds Mental health research Mission is now open. There will also be a webinar hosted by the Expert Advisory Panel at 2pm AEDT on 9 November. Submissions close 1 December. Learn more. 
Indigenous Media Mentoring Program
Indigenous STEM researchers from across Australia are invited to register their interest for two days of intensive media training as part of the Australian Science Media Centre Indigenous Media Mentoring Program (IMMP), in collaboration with National Indigenous Television (NITV-SBS). The training will take place in the SBS studios in Sydney on 15 and 16 February 2023.
Expressions of interest are open for active researchers who identify as Indigenous and work in any area of STEM:
With at least two years postdoctoral experience (or similar experience)
Who have an interesting research story to tell
Want to learn how to communicate their research to the public.
The small group will be mentored by Indigenous journalists and (where appropriate) Indigenous experts with media experience. Find out more on the Australian Science Media Centre website. Expressions of interest close 5 December.

Australian Academy of Science travel award
Junior scientists are invited to send expressions of interest for an Australian Academy of Science award to visit the National Institutes of Health (NIH) in the United States of America in 2023. The successful applicant will receive funding of up to US$3000 towards a direct return airfare between Australia and America and a once-off living allowance of A$400 provided by the Adam J. Berry Memorial Fund (AJBMF). Applicants should be no more than 30 years of age at time of application and undertaking PhD study in Australia at time of travel. The duration of the visit is expected to be between 6 and 13 weeks and must occur between 1 May 2023 and 1 March 2024. Applications close 9am AEDT 31 January 2023. Learn more and apply. 
HEALTH Translation Queensland Roadmap released
HEALTH Translation Queensland (HTQ) has launched its Roadmap for Strengthening Health Research and Translation in Queensland. The Roadmap sets out actions in three priority areas – strengthening the Queensland health care and medical research ecosystem, building workforce capability and capacity, and optimising health and research funding opportunities. The Roadmap is aligned with the Queensland Government's Innovation for a Future Economy 2022-23 Roadmap and the Academy's recently released policy report Research and innovation as core functions in transforming the health system: A vision for the future of health in Australia. Learn more on the HTQ website.
Fellows in the News
Professor Sharon Lewin was interviewed on ABC's Radio National Drive program following her acceptance of the Medal for Outstanding Female Researcher. She also spoke to AAP about lessons from the pandemic response.
Professor Brendan Crabb spoke to ABC news about the Peter Shergold led review into the Australian response to the pandemic.
What does the budget mean for Medicare, medicines, aged care and First Nations health? Professor Stephen Duckett examines the Federal Budget for The Conversation. Professor Duckett also was quoted in RACGP about recent Medicare allegations.
Professor Tony Cunningham spoke to the ABC about the use of animals in medical research following the release of the final report into the NSW Parliamentary inquiry into the same topic.
Could your parenting style impact your child's weight? Professor Louise Baur spoke to Fortune about a new study.
A new paper published in Nature explores the effect of oxytocin nasal spray on social interaction in young children with autism, with authors including Professor Andrew Whitehouse and Professor Ian Hickie.
Professor Hickie also commented on coercive control legislation for ABC and office burnout for News Ltd papers.