Junior doctors, medical students and early-career researchers were encouraged to pursue a path in research at the recent Victorian Life as a Clinician-Scientist symposium.
Experts from a diverse range of fields such as surgery, epidemiology, haematology and paediatrics shared advice on how to get the most from a career as a clinician-scientist.
Clinician-scientists follow a unique path, combining research and clinical practice to get the best outcomes for public health.
The Academy's Life as a Clinician-Scientist symposiums, which launched in Victoria in 2016, invite outstanding clinician-scientists to share their experiences and highlight this rewarding career to aspiring medical trainees. The sixth annual Victorian event included keynote speakers Fellows Professors Kathryn North AC and Stephen O'Leary.
Professor Kathryn North AC, Director of the Murdoch Children's Research Institute and the David Danks Professor of Child Health Research at the University of Melbourne.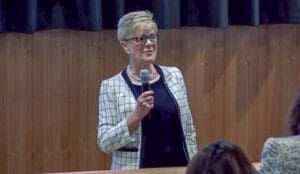 "One thing I love about my job and my career is that I'm never, ever bored," she said.
"Research is addictive…you have a degree of autonomy and you get to pursue your passions."
"But it's also important to recognise that a career in research can be hard. There will be times that you will fail. And your ego is going to be constantly challenged.
"I think the very best doctors are also researchers, thinking constantly of what is important for patient care and ensuring sound evidence-based best practice for their patients.
"Pursue your passions."
Professor North is trained as a physician, child neurologist and clinical geneticist and was awarded a doctorate for research in neurogenetics.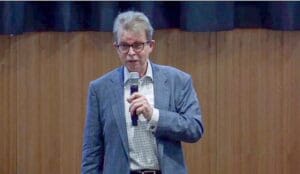 Professor Stephen O'Leary, William Gibson Chair in Otolaryngology at the University of Melbourne.
He has had a career-long passion to improve hearing for those with a hearing loss, making significant clinical and scientific contributions to cochlear implantation.
"Enthusiasm is infectious, it brings people along with you," Professor O'Leary said.
"If you've been trained as a clinician, you know the best will come out if you combine a deep fundamental knowledge, but also if you follow your heart in terms of motivation.
"It's really important, early in your career, to have a broad curiosity across your discipline."
Professor O'Leary's clinical appointment is to the Cochlear Implant and Otology Clinics of the Royal Victorian Eye and Ear Hospital.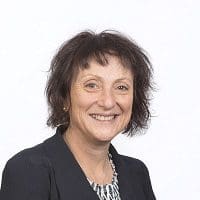 Professor Rachelle Buchbinder AO, is the inaugural Director, Monash-Cabrini Department Musculoskeletal Health and Clinical Epidemiology, and a Professor in the Monash University Department of Epidemiology and Preventive Medicine, Monash University.
Professor Buchbinder said the combination of clinical research and clinical practice meant you could have a doubly rewarding career with "long-term outcomes from research, and immediate gratification with patient care."
"It's a fantastic way of life," she said.
She also shared her experiences of harassment in the industry, something she has worked to overcome.
"I'm sure that if I'd been a man, I wouldn't have been harassed to this extent… I'm not alone," she said.
"But there are lots of both men and women who have been harassed because of their research."
Professors Buchbinder and Ian Harris AM, an academic orthopaedic surgeon and AAHMS Fellow, will release a book titled Hippocrasy, how doctors are betraying their oath in October 2021.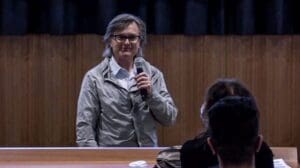 Professor Eric Morand, Head of the School of Clinical Sciences at Monash Health, and Head of the Monash Health Rheumatology Unit.
Professor Morand did not follow a structured path to becoming a clinician-scientist. He advises young medical students to "be curious and not plan too much."
"You don't really need to have a plan… I don't have a plan and still don't," he said.
"I never wanted to become a specialist, nor a researcher, and certainly not an administrator. Now I am all three and wouldn't change a thing"
Professor Morand encouraged the audience to follow their interests and take risks.
"If you're not failing, you're not trying something that hasn't been done before," he said.
"If you want to be a researcher, you need to be able to cope with failure"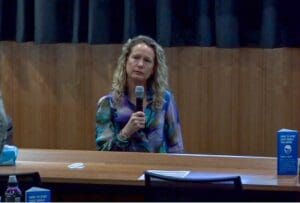 Associate Professor Margie Danchin, consultant paediatrician at the Royal Children's Hospital and an Associate Professor, University of Melbourne and Murdoch Children's Research Institute.
"Leap into it, find out what drives you, find out what you're passionate about, look for those great mentors that can guide you, but always prioritise work life balance," she said.
"You can take your time, there is no rush. This is a long journey and in fact, there is no end, you're always learning.
"It is a tough path… but it's eminently doable. I'd encourage you to take your time, take time out to travel and for family… find your passion. Follow the things that inspire you the most."
Associate Professor Danchin works closely with the Victorian Department of Health on strategies to achieve high COVID-19 vaccine uptake.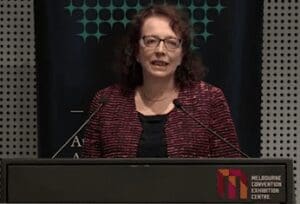 Professor Ingrid Scheffer AO, Academy President, and paediatric neurologist and epileptologist at the University of Melbourne, Austin and Royal Children's Hospitals.
Professor Scheffer said life as a clinician-scientist promised unlimited opportunities to create your own niche and pursue your passions.
"My mantra for those considering life as a clinician-scientist is: Enjoy the journey. Don't worry so much about the endpoint," she said.
"There are many paths to a fulfilling and successful career as a clinician-scientist, where you can make a significant scientific contribution that can improve patients' lives.
"The best doctors are clinician-scientists; they think about the world differently."
The next Life as a Clinician-Scientist symposium will be held online on 4 and 11 September. Register now.