What do forensics, nursing, immunology, hematology, cardiology, nephrology, and neonatology all have in common?
The first ever South Australian Life as a Clinician-Scientist symposium, held in September 2022, highlighted that these diverse health and medical specialties can all lead to a lifetime of learning, ground-breaking research, and significant impact on patient outcomes.
The video recordings from the first ever South Australian LACS event are now available in our video library, or you can read below for event highlights.
Disasters, resilience, and research – the impact of forensic pathology
In these roles, he has worked as a registered expert for courts locally, nationally and internationally; and been involved in preventative pathology, such as the push to ban dangerous cots, as well as undertaking research including investigating the effect of amphetamines on head injuries, SIDS risk factors and shaken baby syndrome.
In his presentation at the 2022 South Australian Life as a Clinician-Scientist symposium, he highlighted the impact pathology can have on courts and communities, and why a good forensic pathologist should have both curiosity and compassion.
"You have to ask questions but then you have to know what to do with the answers, because they can be confronting and they may be answers that you didn't expect," he said.
Watch Professor Byard's presentation here.
It's not just for universities – the push to embed research in healthcare
When Professor Alison Kitson FAHMS graduated from a Northern Ireland university with her undergraduate degree in nursing 40 years, people didn't quite understand what to do with her. As one of the first cohorts of nurses to graduate from university, and later one of the first to go on to complete a PhD, the sentiment at the time was that nurses didn't need to study.
These past challenges helped motivate her to establish The Caring Futures Institute at Flinders University, where today she is Vice President and Executive Dean for the College of Nursing and Health Sciences.
She said it has been "reassuring and heartening" to watch the shift towards opening pathways for nursing clinician-scientists – but there is still more to be done.
"If you think about some of the huge, big, wicked problems that we're facing in our society, it isn't that we don't know what to do, it's that we don't know how to get into the system so that we can actually change attitudes, change behaviours, and change practices."
Professor Kitson would like to see more joint appointments for clinician-scientists in the fields of nursing, midwifery and allied health. To do this, there needs to be partnerships, mentorship, measurable and sustainable KPIs in workplaces, and clear governance structures.
"If this is all done, our clinician-scientists can really flourish. They can be part of a really vibrant community of practice, which enhances partnership, collaboration, and makes a difference to patient outcomes."
Battling childhood diseases through vaccines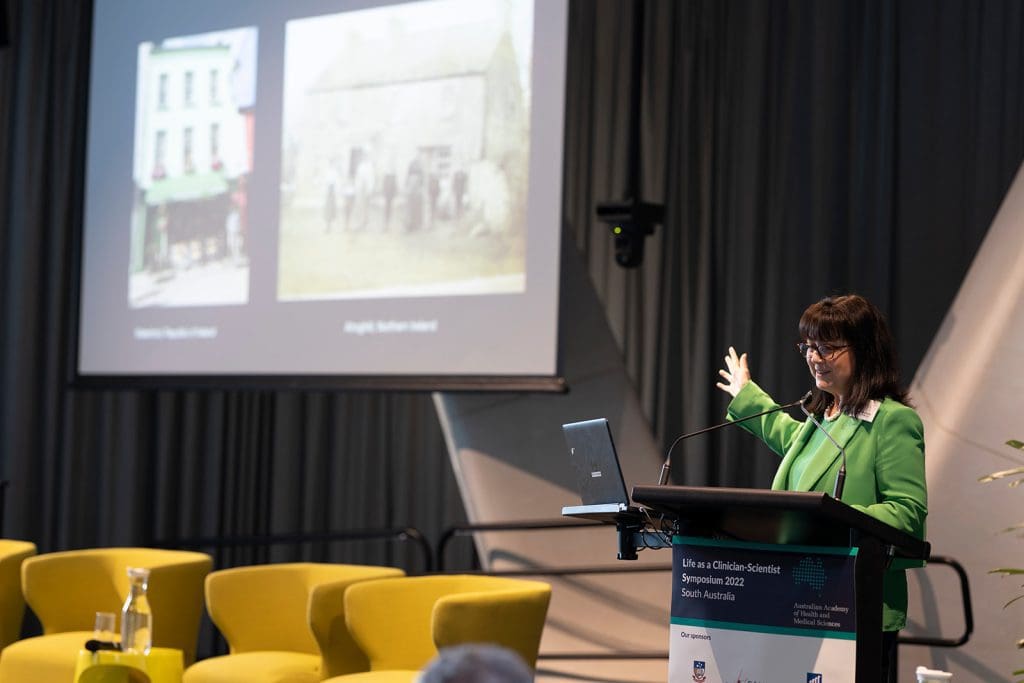 Professor Helen Marshall AM FAHMS describes the path towards becoming a clinician-scientist as the road less travelled– but one that can make a significant impact.
The Professor in Vaccinology at University of Adelaide is also the 2022 SA Australian of the Year, and has spent her career dedicated to protecting children against life-threatening infections through vaccines.
 She was introduced to "paediatrics on the run" during her medical elective placement in a low-resourced hospital in Western Samoa. It was while undertaking vaccine research back in Australia and seeing children with meningococcal disease that she realised her passion lay in vaccines for childhood diseases. "Meningococcal disease is really something that stays with you because it's a really serious infection, even though it's uncommon. In 2022, there is still a 5-10 percent chance of a child dying, which is pretty unbelievable," she said.
Professor Marshall went on to lead the 'B Part of It' study in South Australia, which was the largest study of its kind globally and led to a deeper understanding of how to protect communities against meningococcal B disease globally.
"The research that you can do can inform policy decisions and have really good outcomes," she said.
More recently, she has worked with government to advise on COVID-19 vaccines and implementation strategies. Her advice is to find an area you are passionate about, build networks, and protect your research time.
Challenging the medical worldview as a clinician-scientist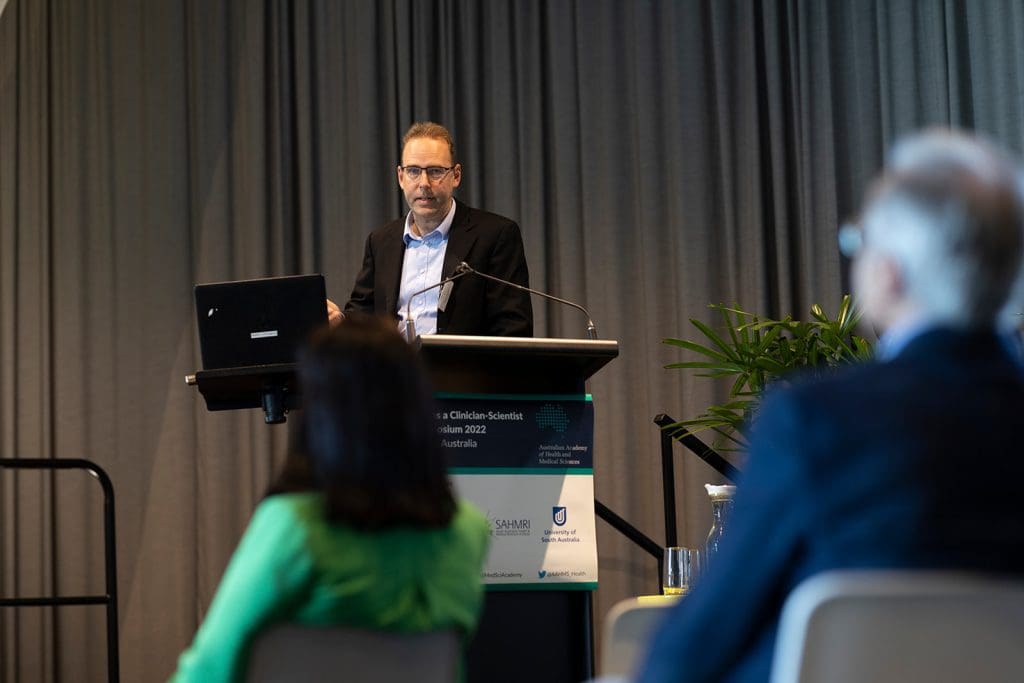 "In our training as doctors and allied health professionals, we are really trained to be masters of what is known… But in research, you are learning to walk into an unknown area and stretch the boundary out, and that's quite a different way of thinking."
For Associate Professor Daniel Thomas, stretching into the unknown has meant focusing on improving precision outcomes for cancer patients, and looking for ways to make a tumour disappear that may not be immediately obvious.
Precision medicine is a relatively new area, and for Associate Professor Thomas, who is Associate Professor of Haematology at SAHMRI, one of the most important lessons during his career has been to understand that a physician's world view can be very different to that of a scientist's.
"As a physician, we're taught fear of failure, to get it right. As a scientist, you have to learn to learn from failure, because most of the time, your ideas fail," he explains.
He encouraged junior clinician-scientists to embrace creativity and be prepared for the "slow burn" of research. "It can take your whole life, but boy, it is worth it."
There are no short cuts – research doesn't happen overnight
"Working smart is as, if not more, important than working hard."
For Associate Professor Peter Psaltis, Theme Leader Lifelong Health, SAHMRI, a career as a clinician-scientist has meant working hard and learning to be efficient when juggling multiple commitments.
He emphasised the importance of finding mentors, working hard, and being self-motivated – but also, to enjoy the process.
"I learned that research progress does not happen overnight, and as a clinician I was rather impatient. Research doesn't always come with linear outcomes, you have to be patient," he explained.
Ultimately, there are "no short cuts" to a career as a clinician-scientist, but he you need to enjoy what you're working on.  "Life is not a race. Don't look over your shoulder at what other people are doing and achieving – tread your own path."
Jump off a cliff at least once in your life
Associate Professor Shilpa Jesudason understands the challenges of juggling research with clinical work well. As nephrologist at Royal Adelaide Hospital, she splits her time across general nephrology, obstetric nephrology, management committees, research, teaching and service. Despite the challenges, she wouldn't change a thing. "I absolutely love my job. It's busy, it's exciting and it's rewarding," she said.
The road to getting there has been anything but linear – paved with hard work, good mentorship and some serendipity. Associate Professor Jesudason acknowledges the many challenges to engaging in research as a clinician – from funding to clinical workload to simply having enough hours in ta day – but in her view, any level of research engagement as a clinician is better than none.
"We, as clinicians, are best placed to translate knowledge into care," she said. "We, who are at the coalface of care, it is incumbent upon us to take research knowledge and put it into practice. If you're not doing that every single day in your clinical practice, then you're not serving your patients the best that you can."
She recommends starting early, collaborating beyond your field, and putting patients in the driver's seat through research co-design. Above all, don't be afraid to try stretch yourself in your career.
"Jump off a cliff at least once in your life. Go off and do something completely different."
Advice for aspiring clinician-scientists
What can be done to improve pathways for emerging and established clinician-scientists in Australia?
Experts at various career stages discussed this issue and answered questions from budding clinician-researchers at the 2022 Life as a Clinician-Scientist South Australian symposium.
Chaired by AAHMS President Professor Steve Wesselingh, the session included panellists  Professor Susan Hillier, Dean of Research, University of South Australia; Professor Benjamin Kile FAHMS, Executive Dean, University of Adelaide; and Associate Professor Amy Keir, Neonatologist WCH; Head of MedSTAR Kids Retrieval Service.
Watch a recording of the panel session here.
Find out about upcoming events on our Event page.