Welcome to the August 2022 newsletter. In this edition:
A message from our President
It is National Science Week, and an excellent opportunity to reflect on the purpose of the Academy—to advance health and medical research throughout Australia and ensure the application of this research provides benefits to all. A key element of this goal is to nurture the next generation of leaders—the future, after all, is in their hands. That is why I am delighted to welcome six outstanding mid-career researchers and sector leaders as Associate Members who have recently joined our Mentorship program. These emerging stars have each been paired with a mentor from the AAHMS Fellowship to foster career and leadership development. I look forward to their contributions to the Academy's work over the next three years. Learn more about our newest mentees.
Turning to future research leaders, I was delighted with the 7th annual Victorian Life as a Clinician-Scientist symposium in Melbourne, which we held on Saturday 13 August. The audience in the room and online was fully engaged in enthusiastic discussion with all the speakers and panellists. The talks were simply outstanding and the contributions of all Fellows and speakers were fabulous. My warmest thanks to them for sharing their career journeys and wisdom on how to succeed on this rewarding and life-changing career path. 

We look forward to the first ever South Australian Life as a Clinician-Scientist symposium, which will take place on 1 September in Adelaide. This inaugural event is free to attend and I encourage those based in South Australia to share the details with your networks to ensure we reach as many budding clinician-scientists as possible. We are most grateful to the sponsors of these symposia as, without their support, we could not hold these meetings. It offers the sponsors an opportunity to showcase their wares to potential students and future clinician-scientists.
We are also fast approaching the Academy's flagship event of the year—the AAHMS annual meeting. AAHMS 2022 promises an impressive line-up of speakers presenting on a diverse range of topics related to this year's theme, "Future health and transformative technologies." Keynote speakers include Professor Claire Wardle and Professor Jeffrey Braithwaite, with a full program designed to cater to the broad interests of the Fellowship. Register here.
Best wishes,
Professor Ingrid Scheffer AO FRS FAA PresAHMS
President
Welcome to our newest Mentees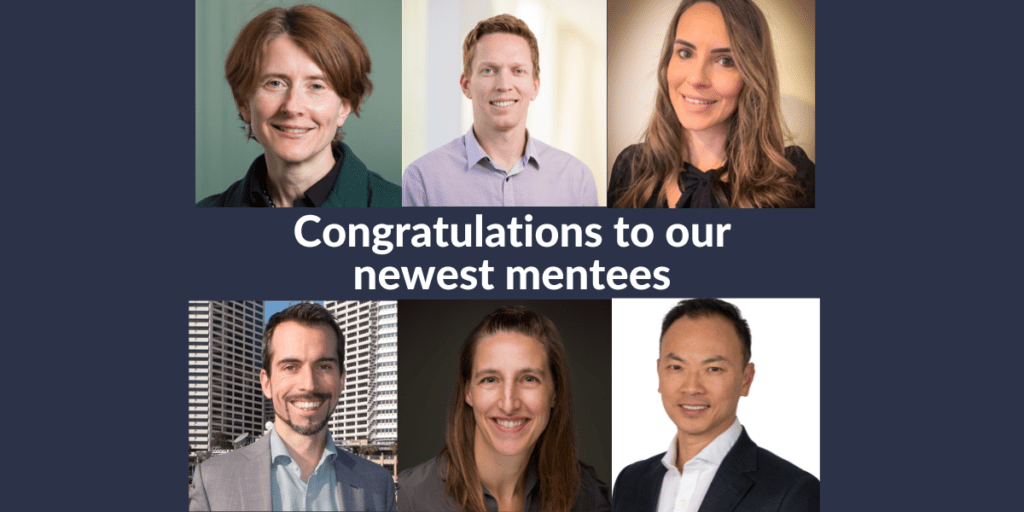 Congratulations to our six new Associate Members, who have recently joined our Mentorship Program. These emerging health and medical research stars will be paired with a mentor from the AAHMS Fellowship to support their career development.
Mentees become Associate Members of the Academy for three years, gaining access to training, support and networking opportunities, as well as the opportunity to contribute to Academy projects.
The six new AAHMS Mentees are:
Associate Professor James Chong, Cardiologist, Westmead Institute for Medical Research, Co-Director Centre for Heart Research, University of Sydney
Professor Tomas Kalincik, Head, Clinical Outcomes Research Unit The University of Melbourne; Head, MS Centre Royal Melbourne Hospital
Associate Professor Francine Marques, Associate Professor in Genetics and Genomics, Monash University
Associate Professor Lisa Moran, Head, Healthy Lifestyle Research Program, Monash University
Associate Professor Suzanne Nielsen, Deputy Director and NHMRC Career Development Fellow, Monash Addiction Research Centre, Monash University
Associate Professor David Scott, NHMRC Emerging Leadership Fellow, Deakin University
Learn more about their impressive achievements and what they hope to gain from the program.
---
Annual meeting update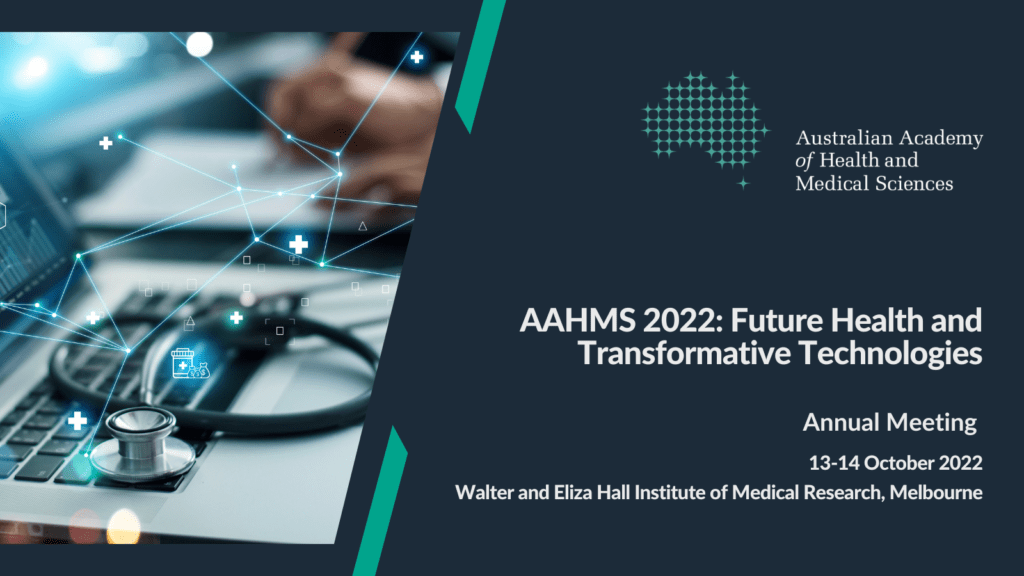 Join us in Melbourne from 13-14 October for AAHMS 2022: Future health and transformative technologies. The Academy's flagship event for the year brings together Fellows, Associate Members and thought leaders from across health and medical sciences to explore cutting-edge research and the latest ideas and innovations making an impact in Australia and beyond.
We are pleased to announce another keynote speaker, Professor Jeffrey Braithwaite FAHMS. Professor Braithwaite is a leading health services and systems researcher with an international reputation for his work investigating and contributing to systems improvement. He is an expert in the culture and structure of acute settings, leadership, management and change in health sector organisations, quality and safety in healthcare, health sector reform in an international context and the restructuring of health services. He has professorial appointments at six universities, is the President of the International Society for Quality in Health Care (ISQua) and is an expert and advisor to the WHO, the OECD and research groups around the world.
AAHMS 2022 promises a full program of Australian and international speakers presenting on a diverse range of topics related to this year's theme, Future health and transformative technologies. Register to save your seat at the first in-person AAHMS annual meeting in three years.
With thanks to our sponsors for their generous support: CSL, Belberry, Murdoch Children's Research Institute, WEHI and Florey Institute.
---
Sector news and upcoming events
NHMRC grant opportunities
NHMRC has a number of grants with minimum data due on 24 August, including 2022 Dementia, Ageing and Aged Care; 2022 Stem Cell Therapies; 2022 Cardiovascular Health; Pancreatic Cancer Research Stream 1; and 2022 Australian Brain Cancer Research Infrastructure. The 2022 Mitochondrial Donation Pilot Program has minimum data due 31 August.

National Press Club address
Professor Georgina Long AO FAHMS and Professor Richard Scolyer AO FAHMS will appear at the National Press Club alongside Olympian Cate Campbell to present Game on Mole – urgent action required to tackle melanoma on 21 September.
Elevate scholarships open
Applications are now open for Elevate: Boosting women in STEM, administered by the Academy of Technological Sciences and Engineering (ATSE) and funded by the Australian Government. Up to 500 undergraduate and postgraduate scholarships will be available to women in science, technology, engineering and mathematics (STEM) over the next six years through the program. Applications close 30 September. Learn more.
Congratulations
Congratulations Professor Maria Kavallaris AM FAHMS, finalist in Australian Museum Eureka Prizes for Outstanding Mentor of Young Researchers.
Congratulations Professor Emily Banks AM FAHMS, recipient of the AMA Gold Medal for her outstanding service to medicine.
Congratulations to Professor Sharon Lewin AO FAHMS, appointed President of the International AIDS Society.
Congratulations to Professor Don McManus FAHMS, recently awarded Fellow of the Australian Society for Parasitology in recognition of his sustained contributions to Australian parasitology over 30 years.
---
Fellows in the News
Access to primary mental health care remains critical, writes Professor Ian Hickie for Insight+, the AMA weekly newsletter. He also discussed the use of antidepressants in Australia for The Australian and was quoted in an ABC article on a report urging for reform to emergency department care for young people at risk of suicide.
The difficulties of being a researcher in Australia are highlighted in an article from The Sydney Morning Herald, with quotes from Fellows including Professor Peter Doherty and Professor Ross Coppel.
Professor Stephen Duckett spoke to The New York Times about Australia's COVID-19 response, and to ABC about Australia's public health messaging. He also wrote about COVID-19 for The Canberra Times.
Professor Sharon Lewin discussed the global Monkeypox outbreak with ABC News and to The Guardian about vaccines and public health measures as a response to COVID-19. She also spoke to The Australian about the need to accelerate vaccine and treatment development, and was quoted in NBC news about stem cell transplant treatments for HIV. Professor Lewin co-authored an article on HIV self-testing in the Medical Journal of Australia.
Professor Brendan Crabb spoke to The Australian about rising HIV infections in Asia and the Pacific.

Professor Tony Cunningham spoke to The Health Report on ABC Radio National about shingles and the vaccines available.
Professor Louise Baur spoke to The Sydney Morning Herald about obesity and her role as President of the World Obesity Federation.