Our ever-popular Life as a Clinician-Scientist (LACS) events showcase the valuable work of clinician-scientists – and provide insights to help you follow in their footsteps. We are delighted to now bring you these events online until we are able to meet in person again!
As part of our second live webinar, you'll learn how our clinician-scientists are using their expertise and experience to confront a once in a hundred-year global health threat. Whether they are searching for new treatments and vaccines, advising on public health measures or addressing the broader impacts and ensuring that patients with other conditions continue to receive the best possible care, they have been crucial to the response so far.
Join us to hear from some of Australia's leading clinician-scientists about how it's going, and the opportunities and challenges they have experienced in their lives as clinician-scientists during the pandemic.
During this free 105 minute webinar and panel discussion you'll discover how clinician-scientists:
prepare and respond to a pandemic; and
pivot their activities to develop a vaccine; and
manage broader health concerns in a pandemic.
You will also have the opportunity to put your questions to our panellists.
This online event will inspire and support you as you consider this rewarding career pathway – it is aimed at anyone looking to bridge clinical work and research.
If you missed out on viewing the webinar you can catch up here.
Speakers and panel members:
Professor Ian Frazer AC FRS FAA FTSE FAHMS
Professor, The University of Queensland and Chair, Translational Research Institute Foundation Board

Professor Ian Frazer is a clinician-scientist, trained as a clinical immunologist in Scotland. As a professor at the University of Queensland, he leads a research group working at TRI in Brisbane, Australia on the immunobiology of epithelial cancers. He is recognised as co-inventor of the technology enabling the HPV vaccines, currently used worldwide to help prevent cervical cancer. He heads a biotechnology company, Jingang Medicine (Aus) Pty Ltd, working on new vaccine technologies, and is a board member of several companies and not for profit organisations. He was the inaugural president of the Australian Academy of Health and Medical Sciences, and a member of the Australian National Science and Technology Council. He chairs the Australian Medical Research Advisory Board of the Medical Research Future Fund.
Professor Tim Hughes FAHMS
Precision Medicine Theme Leader, SAHMRI; Consultant Haematologist in the Division of Haematology, SA Pathology

Professor Timothy Hughes is the Precision Medicine Theme Leader at SAHMRI and Consultant Haematologist at the Royal Adelaide Hospital. He is also the Cancer Council Professor at the University of Adelaide, Chair of the International Chronic Myeloid Leukemia Foundation and Fellow of the Australian Academy of Health and Medical Sciences. Professor Hughes led the establishment of the molecular response criteria that are used world-wide to measure response in chronic myeloid leukaemia (CML) and has led many of the key Global and National trials. He has published over 300 papers that have been cited over 50,000 times. Professor Hughes was awarded the GSK Award for Research Excellence in 2017 and the Ramaciotti Prize in 2019 for pioneering the use of tyrosine kinase inhibitors (TKIs).
Associate Professor Asha Bowen
Head, Skin Health and Paediatric Infectious Diseases Specialist, Telethon Kids Institute

Associate Professor Asha Bowen is a Paediatric Infectious Diseases Specialist at Perth Children's Hospital and Healthy Skin Team Leader and NHMRC Early Career Fellow at the Telethon Kids Institute. She is currently leading the Hospital in the Home, HIV and Central Venous Access Device activities of the Infectious Diseases service at Perth Children's Hospital. Associate Professor Bowen completed her fellowship with the Royal Australasian College of Physicians (FRACP) as a general paediatrician and paediatric infectious diseases specialist in 2009. She combines this busy role with a research career focussed on reducing the burden of infectious diseases in Australia's Aboriginal children as a clinician-researcher at Perth Children's Hospital and Telethon Kids Institute.
Chairs:
Academy President, Professor Ingrid Scheffer AO FRS FAA PresAHMS
Professor Ingrid Scheffer is a physician-scientist whose work as a paediatric neurologist and epileptologist at the University of Melbourne and Florey Institute has led the field of epilepsy genetics over more than 20 years, in collaboration with Professor Samuel Berkovic and molecular geneticists. This resulted in identification of the first epilepsy gene and many more genes subsequently. Professor Scheffer has described many novel epilepsy syndromes and performed genotype–phenotype correlation. She recently played a key role in the first major reclassification of the epilepsies in two decades as Chair of the International League Against Epilepsy Commission for Classification and Terminology.
Professor Louise Baur AM FAHMS
Professor Louise Baur is a paediatrician and an internationally renowned childhood obesity researcher. She has a special interest in the prevention and management of child and adolescent obesity and has for over 25 years also studied various aspects of adult obesity. Professor Baur has been instrumental in raising the profile of childhood obesity as an issue of clinical and public health importance, in Australia and internationally. Her body of research has helped define management efforts around childhood obesity and improved our understanding of the factors that help prevent obesity in the first few years of life. Her work also has helped define predictors of obesity and the metabolic syndrome in young people, and the complications of obesity.
We are grateful for the generous support of our sponsors (more sponsors to follow!):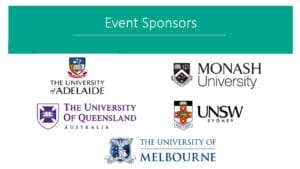 Image credit: National Institute of Allergy and Infectious Disease, NIH