We are excited to announce our Queensland Clinical Sciences Symposium 2021.
Do you want to push the boundaries of knowledge as part of your career in medicine or health? And take what you learn at the bedside to change and improve health and care?
*** Note: registration closes at midday, Friday 19 March ***
Join us for the third annual Queensland Clinical Sciences Symposium, Building Bridges and Breaking Boundaries, to learn about how you can do just that from some of Australia's leading clinician scientists and health researchers.
Our morning session – Building Bridges – will focus on how, as a clinician scientist, you can bridge divides throughout your career. Get insights into pathways and important skills to develop in this career:

push the boundaries of knowledge as part of your career in medicine or health? And take what you learn at the bedside to change and improve health and care?

Hear about what it is like to work between disciplines and across the world to progress human understanding of health and medicine.

Our afternoon session – Breaking Boundaries – will bring you visions for the future of medicine – you will hear about emerging fields, concepts and 'big ideas' that could inspire and form part of your future career.
Our speakers and panellists come from a diverse range of specialties and research interests, spanning the entire spectrum from the lab bench, clinical trials, and wider health policy.
Speakers:
Professor Emeritus Alan Mackay-Sim, neural stem cell scientist and 2017 Australian of the Year
Professor Bala Venkatesh FAHMS, intensive care medicine, past-President of CICM
Professor Tammy Hoffman OAM FAHMS, evidence-based practice, occupational therapist
Professor Claire Wainwright AM FAHMS, paediatric and respiratory medicine
Distinguished Professor Dietmar Hutmacher FAHMS, tissue engineering and regenerative medicine, and Dr Michael Wagels, plastic and reconstructive surgery. The engineer and surgeon behind the world's first 3D bone implant.
Associate Professor Clair Sullivan, digital health and medical informatics
Dr Eamonn Eeles, geriatrics
Panellists
Dr Cameron Snell, pathology
Dr David Cavallucci, hepato-pancreatico-biliary surgery
Dr Michelle Roets, anaesthetics
Dr Monica Ng, medicine
This event is for medical and health students, junior doctors and health professionals, and early career researchers looking to better understand the life of a clinician scientist – and how to pursue this rewarding career pathway.
Don't miss your chance to hear from Queensland's ground-breaking researchers, and explore the research expo featuring some of the the state's world-class research universities and institutes.
We are grateful for the generous support of all of our sponsors. The University of Queensland has kindly provided two sponsors, The Faculty of Medicine as a platinum sponsor and the Queensland Brain Institute as a silver sponsor.
Funding for this event has been provided by the Australian Government. The views expressed at the event do not necessarily reflect the views of the Australian Government.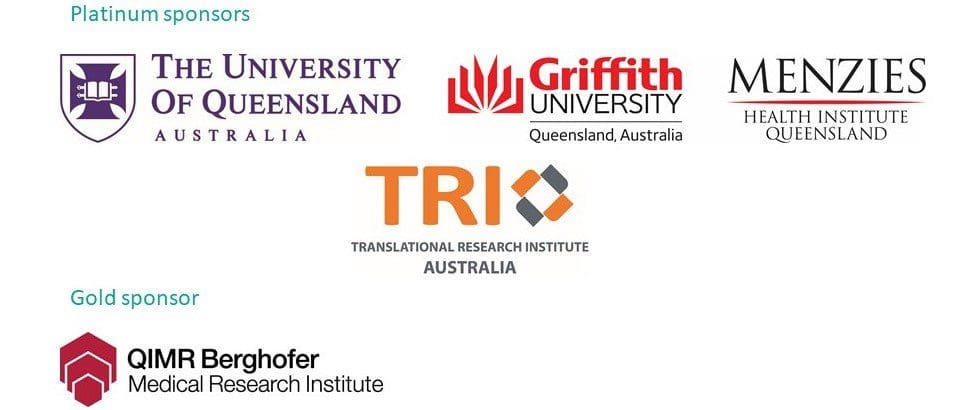 Stay up-to-date via our event page: https://fb.me/e/220L5wZPm
By registering to attend this event you acknowledge that:
You do not have any symptoms associated with COVID-19 (e.g. fever, cough, sore throat, shortness of breath, sneezing/runny nose or loss of sense of smell or taste);

You do not have COVID-19 nor are you awaiting the results of being tested for COVID-19;

You have not been in contact with any known or suspected cases of COVID-19 in the past 14 days;

You have not returned from a

declared COVID-19 hotspot

in the last 14 days; and

You have not returned, or been in contact with anyone else who has returned from overseas in the past 14 days.
Please note that should the in person event need to be cancelled at the last minute due to changes in State government meeting requirements, it will become an entirely online event and you will be notified via an email and provided with the streaming link.